News
Activists to launch Jaivik Kranti against GM crops
A group of activists promoting organic farming today launched jaivik kranti (organic revolution) against genetically modified crops and use of pesticides in agriculture for protecting biodiversity through a five-year action plan.
The group also organised a dialogue today where state government representatives from Rajasthan, Uttar Pradesh, Madhya Pradesh and Telangana held discussions on farmer suicides, biodiversity loss, drought situation in the country and pulses and oil seed crises.
The...


Read more...
International Day of Biodiversity at Navdanya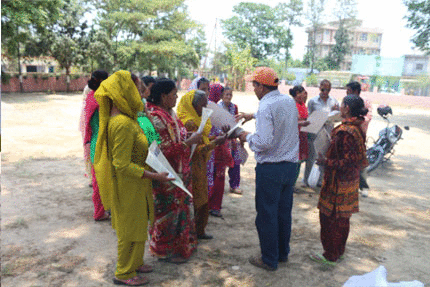 Navdanya Jaivik Parivar celebrates the International Day of Biodiversity at Navdanya farm Ramgarh, Dehradun.
Navdanya Jaivik Parivar Bhoodpr is celebrating the day.
A group of Gandhi fellowship at Navdanya farm on this occasion.
The increase in Bt cotton came at the cost of Jowar which holds the answer to drought in Maharashtra. Jowar requires only 250 mm water and would have survived the drought, giving farmers food and livelihood security even with a deficient monsoon.
Gandhi and Globalisation course gets people from all over the world to Dehradun.
April 1st, 2016 Dehradun: Over 40 participants from five continents have come to the Biodiversity conservatory farm at Ramgarh to attend the 15th Gandhi and Globalisation course. This is course is designed to make participants learn the principle of harmony with nature, by adopting non-violent and other Gandhian methods. Navdanya's 'Making Peace with the Earth and Each other: Gandhi and Globalisation' is being taught by eminent Gandhians and environmentalist from around the...


Read more...
गांधी एवं वैष्वीकरण कार्यक्रम के लिए देहरादून में विष्वभर के लोग एकजुट
Xkak/kh th ds fopkjksa ij v/kkfjr 15 oka okf"kZd dk;ZdzeA 2001 ls gqbZ Fkh 'kq:vkrA ns'k&fons'k ds 45 ls Hkh vf/kd fo}ku le>saxs xka/kh dh fopkj /kkjkA

· *uo/kkU; Xkka/kh th ds LkoksZn;] Lojkt] Lons'kh vkSj lR;kxzg vkanksyu dk thoar mnkgj.k gS* % lrh'k dqekj] izfl) xka/khoknh] yanu fLFkr *'kwekdj dkWyst baVjus'kuy lsaVj QkWj bdksyksftdy LVMht* ds laLFkkid funs'kd ,oa jslqxzsZal ,.M bdksyksftLV if=dk ds lEikndA

· LkoksZn;] Lojkt] Lons'kh vkSj lR;kxzg xka/kh th...


Read more...
<< Start < Prev 1 2 3 4 5 6 7

8

9 10 Next > End >>


Page 8 of 84