News
Rogue companies must be stopped from taking over India's rich biodiversity - See more at: http://indianexpress.com/article/blogs/biodiversity-national-intellectual-property-rights-policy-modi-us-visit-biopiracy-trips-wto-2834379/#sthash.iJkkUxr5.dpuf
On 7th of June, the Indian Prime Minister will meet the US President in the White House. One of the steps taken to prepare for the PM's trip to the US is the announcement of a new National IPR Policy. Quite clearly the IPR policy is guided less by the national imperative and more by US corporate pressure. -
Recall tradition to save our biodiversity
We have to recall traditional methods to protect our biodiversity and adopt them to save the Earth, said environment minister Rajendra Arlekar at the Goa state biodiversity board's International Day for Biological Diversity event at Kala Academy, Panaji, on Sunday.

The MLA, who is also chairperson of the Goa state diversity board said, "Knowledge about our biodiversity has been passed down through the generations, which is why values of environmental protection have been instilled in us...


Read more...
May 22 has been declared International Biodiversity Day by the United Nations. It gives us an opportunity to become aware of the rich biodiversity that has been evolved by our farmers as co-creators with nature. It also provides an opportunity to acknowledge the threats to our biodiversity and our rights from IPR monopolies and monocultures.
Just as our Vedas and Upanishads have no individual authors, our rich biodiversity, including seeds, have been evolved cumulatively. They are a common...


Read more...
Activists to launch Jaivik Kranti against GM crops
A group of activists promoting organic farming today launched jaivik kranti (organic revolution) against genetically modified crops and use of pesticides in agriculture for protecting biodiversity through a five-year action plan.
The group also organised a dialogue today where state government representatives from Rajasthan, Uttar Pradesh, Madhya Pradesh and Telangana held discussions on farmer suicides, biodiversity loss, drought situation in the country and pulses and oil seed crises.
The...


Read more...
International Day of Biodiversity at Navdanya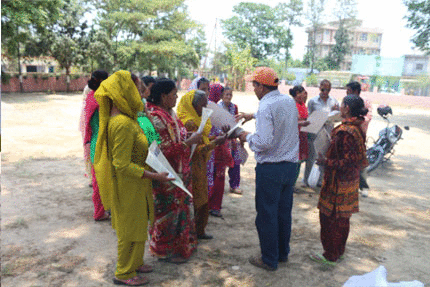 Navdanya Jaivik Parivar celebrates the International Day of Biodiversity at Navdanya farm Ramgarh, Dehradun.
Navdanya Jaivik Parivar Bhoodpr is celebrating the day.
A group of Gandhi fellowship at Navdanya farm on this occasion.
<< Start < Prev 1 2 3 4 5 6 7 8

9

10 Next > End >>


Page 9 of 86