JOIN THE RESISTANCE AGAINST 200 GMO OPEN FIELD TRIALS APPROVED BY MR.MOILY

JOIN THE RESISTANCE (CLICK A SELFIE) AND SIGN THE PETITION

On the 27th of February, 2014, Mr.Moily approved 200 GMO open field trials. Mr.Moily  was appointed as the environmental minister after the two earlier environmental ministers Jairam Ramesh and Jayanti Natrajan were removed for upholding biosafety laws that protect people's health and the environment.

We must collectively resist this undemocratic...


Read more...
Satyagraha – The Force of Truth

YE! NAVDANYA – Young Ecologists

Dear Prime Minister, Dr.Manmohan Singh & Rahul Gandhi, Vice President of Congress,

We as the youth of India want a nation free of pollution – the pollution from fossil fuels that is destabilizing our climate, the genetic pollution from GMO's that threatens our biodiversity and pollution of power that threatens our constitutional rights, our health and our entire ecosystems. We are deeply concerned that the...


Read more...


Dear Mr Prime Minister,

Your Government is wasting millions of Rupees of our public money on inefficient, useless, but hazardous experiments like the GMO Banana.

Ignoring the many existing alternatives our indigenous biodiversity and knowledge offers to address the public health emergency of iron deficiency, India's Biotechnology Industry Research Assistance Council (BIRAC) has signed an agreement with Queensland University to provide AUD$1.4...


Read more...
Food is supposed to provide us nourishment and health but because of the toxins it contains, what we consume has become a major threat to our health. Some toxic substances are added to our food physically, through adulteration, while some enter our food system chemically, through pesticide residues. And some toxins enter the food chain genetically, through genetic engineering of seeds and crops. Even food packaging can be a source of toxins in food.

While physical adulteration, like stones...


Read more...
Navdanya /Research Foundation for Science Technology and Ecology organized an interactive session of scientists and public citizens on 'GMO's, Biosafety and Politics of Science' at Indian International Center, New Delhi on  18th December 2012. Students, experts, scientists, environmentalists and politically active citizens attended the meeting and participated in the debate on the influence of vested commercial interests on science and its consequences for society.

I shared my...


Read more...
In 1998, when Monsanto first entered India, Navdanya started the Monsanto Quit India Campaign on 9th August "Quit India Day" when Gandhi told the British "Quit India".

Navdanya continues the movement for seed sovereignty after having undertaken Bija Yatras (Seed Pilgrimages) through the suicide belt from Sewagram to Bangalore in the year 2006 and from Champaran to Rajghat in the year 2009.

We are undertaking another Bija Yatra through Rajasthan from Quit India day (9-13 August...


Read more...
Climate Change is setting off a panic reaction with people not knowing where to begin to find solutions. A solution lies in your backyard, on your balcony and in your garden. Chemical farming is a major contributor to green house gas emissions which are causing climate change. Organic farming is a solution in every one's hands. We do not have to wait for governments to agree in Copenhagen. We can begin addressing the climate problem today everywhere.
Read more...
Navdanya believes in fair trade and just market. For us, nature, farmers and consumers are co-creators and co- producers. This partnership is necessary for care for the earth, justice for farmers and health of consumers.

Through Biodiversity Conservation, Navdanya is reclaiming and reinventing the market, changing it from its current exploitative and unfair structures to co-operative, co-productive and fair trade.

Therefore for us trade should be Fair to the earth; Fair to the local...


Read more...
Navdanya has led the national and international movement for biosafety and against the dangers of Genetically Modified Organisms (GMOs) in agriculture. Working with citizens' movements, grassroot organizations, NGOs and governments, we have made significant contributions to the Convention on Biological Diversity (CBD) and the Biosafety Protocol.
Read more...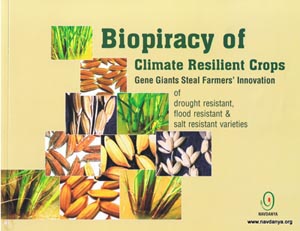 The new IPR laws embodied in the TRIPs agreement of WTO have unleashed an epidemic of the piracy of nature's creativity and millennia of indigenous innovation. RFSTE/ Navdanya started the campaign against biopiracy with the Neem Campaign in 1994 and mobilized 1,00,000 signatures against neem patents and filed a legal opposition against the USDA and WR Grace patent on the fungicidal properties of neem (no. 436257 B1) in the European Patent Office (EPO) at Munich, Germany.
Read more...
<< Start < Prev 1

2

3 Next > End >>


Page 2 of 3